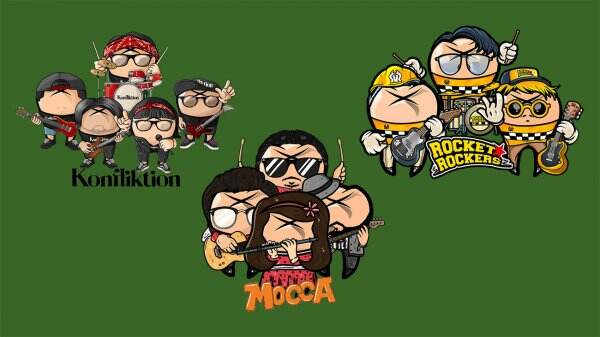 Guts Invasion Announces NFT Collaboration with Renowned Indonesian Bands
Teknologi | hybrid.co.id | Kamis, 02 Juni 2022 - 17:54
NFTs continue to be one of the hottest topics in the Indonesian music industry. Many artists are dipping their toes in the water, either through solo projects or collaborations. One upcoming NFT collaboration among Indonesian musicians that recently caught attention is Guts Invasion.
The initial collection of Guts Invasion will feature exclusive PFP NFTs of eight renowned Indonesian bands: Rocket Rockers, Kuburan Band, Konfliktion, Turtles Jr., Begundal Lowokwaru, Painful By Kisses, Ice Cream Attack!, and Mocca (which recently released its own music NFTs). There will be 200 NFTs with teeth-like characters for each band, and the project team is promising several utilities for holders.
Based on information in the project roadmap, holders of Guts Invasions initial NFT collection are guaranteed a whitelist presale of 2D Guts Invasion NFTs and music NFTs. Following those up, the project team plans to hold a celebration festival in Bali, and holders will be granted a special free pass to the event. Yes, NFTs as a free pass to physical events apparently are going to be a thing in Indonesia.
COMING SOON :
.
NFT collaboration with koolest bands in Indonesia on PFP 2D

More info:https://t.co/uQhB6tESqE
.#NFT #nftindonesia #nftcommunity #nftcollector #nftmusic #nftart pic.twitter.com/yL4bIGK73F

Guts Nft (@GutsNft) June 1, 2022
Further down the road, Guts Invasion is also looking to launch a collection of 3D NFTs, as well as open up a restaurant, merchandise shop, NFT gallery, music recording studio, podcast studio, and music venue in Bali, all offering special prices for Guts Invasion NFT holders.
Guts Invasion is a project led by Dhani Chaniago, a crypto enthusiast and owner of a Bali-based indie record label Revolusi Musik Indonesia. In a statement to the press, Chaniago said that NFTs open up opportunities for musicians to create an alternative source of income in addition to touring. Guts Invasions vision is to be the bridge for creating new talents in the music and creative industries.
Guts Invasion so far hasnt announced its minting schedule, but just like many other NFT projects out there, it does have a Discord channel.